A few months ago, I started a digital marketing agency in Slovenia where we help experts turn their knowledge into online courses.
All of a sudden, I found myself building, running and scaling 5 or 6 online businesses at a time.
In a single day, I jumped between research, product development, writing sales copy, interviewing potential clients and communicating with my team, and working through a flood of emails.
I quickly found myself less focused than I wanted to be.
I felt like I was working all the time, but my TO-DO list kept growing from 10 to 20, 40 or 50+ items.
If I wanted to keep up with all the work, I needed to adapt – FAST.
I wanted to learn how to stay as focused as possible, so I read every book I could find on the subject.
I experimented with different focus techniques.
I started tracking and observing my focus to see what gave me more focus and what stole it from me.
I quickly realized that the science of focus was an underdeveloped field, which just made me more excited to research it.
One of the things I discovered are so-called focus triggers.
Focus triggers help me get in the zone whenever I feel distracted.
They're the first weapon in my arsenal I turn to.
The more of them I use, the higher chances I have of being focused during my work.
Over the next few days/weeks, I'll be sharing my favorite focus triggers with you.
Let's start with the first one today!
​Focus Trigger #1: Find your Goldilocks Zone
The Goldilocks principle originates from the story of Goldilocks and the Three Bears, and talks about porridge that is "not too cold, not too hot, but just right".
In his book Flow, Mihaly Csikszentmihalyi​ created a chart similar to this one: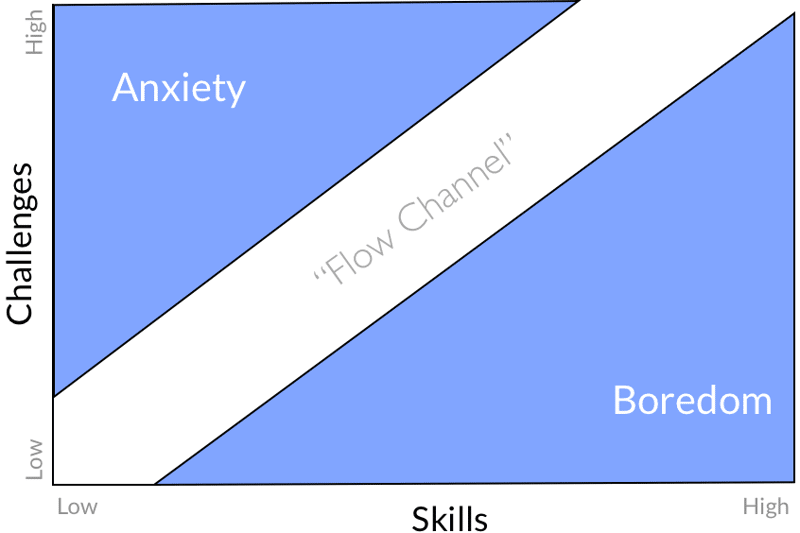 My observation has been that if a task I'm working on is ​too challenging​, I'll feel anxious and distracted, and feel the urge to work on other things.
For example, if I need to set up a Facebook Ads campaign from scratch and I've never done it before, I know it will be a painful experience.
I've also noticed that if a task I'm working on is ​too easy​, I'll get bored and have to "force" myself to focus.
For example, if I need to review 10 hours of video recordings of an online course and finding errors in them​, which doesn't require much skill or my personal expertise, I'll get bored within minutes.​
That's how I discovered that I focus best on tasks that are in my Goldilocks Zone.
Goldilocks Zone includes all the tasks that are challenging enough to not feel boring, but not too challenging for me to feel anxious about them.
I've found that the more time in a day I spend in my Goldilocks Zone, the more focused I am.
That's why I try to focus on only doing tasks in my Goldilocks Zone.
So what do I do with all my other work?
If a task is too easy, I find a way to delegate it to my team members, to whom it might be challenging enough.
Alternatively, you can think of ways to make the task more interesting – chasing zombies around the world can be inherently more fun than just going for a jog.
If a task is too difficult (like creating a Facebook Ads campaign for the first time with no previous experience), I ask for help.
I either learn how to do it from a book or an online course, or ask a Facebook Ads expert to do it with me, so I can learn how to rapidly do it myself.
From theory to practice
If you find this idea interesting, try it out in your work by following these steps:
Start paying attention to how you feel when you work. Are you anxious? Bored? Or in the zone?
If you're bored, delegate or outsource the task to someone else (if that's not possible, think about how you can make this task more interesting or challenging)
If you're anxious, ask for help (read a book, take a course, talk to a coach, an expert or a friend)
You'll notice that the more time you spend on the tasks in your Goldilocks Zone, the more focused you'll be!
There's a lot more I have to say on this topic, and I have a lot of cool experiments that I want to share with you. Stay tuned!
-Primoz
Learn how I attracted 337,838+ visitors to my blog
Download my free 13,000+ word Ultimate Guide Checklist and learn how I used Ultimate Guides to drive 337,838+ visitors to my blog!